Want to add some interest to your kitchen? Growing a little tired of the existing set up, but don't want to deal with the cost or time required for a full renovation? Consider adding a rustic DIY kitchen island, especially if you already have the space for an island available. The biggest issue with the following rustic DIY kitchen islands is that you might have a hard time choosing which one you like best.
Rustic DIY Kitchen Island
Even if you feel that space is limited, there are some great looking rustic islands with a small footprint. Take this one for example: it is small but serviceable, and made out of pallet wood. It is also movable and could be moved around the kitchen if needed. See the tutorial here.
Here's another example of a rustic DIY kitchen island with small space requirements. This one also has some great looking towel racks to utilize even more of that small space. See how great a rustic island even looks with white kitchen cabinets!
Love the look of this rustic island! The gray weathered appearance is perfection.
Here's an island that has been decked out in brick to make it look rustic. Goes perfect with the backsplash!
This rustic island is also easy on your pocketbook, because it is made from a second-hand dresser. This one makes great use of the color green.
Rustic DIY Kitchen Island
Go a little more on the rustic side with this island from Sustainably Speaking. It even gives you space to store your cookbook collection.
Another antique dresser turned kitchen island! This one has hooks in the sides to hang those big, bulky kitchen tools that don't fit well in an ordinary drawer. The blue color is country perfection.
This DIY kitchen island is another perfect idea for tight spaces, but still functions beautifully and looks gorgeous in this kitchen. See the full tutorial here to build your own.
Could a rustic kitchen island get any more perfect than this example? Everything about it is reminiscent of an old barn. The best part is that it's on wheels and can be moved around the kitchen as needed.
This island evokes the look of an old crate, plus gives you lots of storage capability with the crate drawers housed underneath.
Rustic DIY Kitchen Island
Give your existing island or peninsula a DIY rustic makeover by covering it with old pallet wood. This example looks pretty amazing! For more wood projects, check out my post on reclaimed wood DIY pallet projects.
Shanty 2 Chic has a full tutorial on this Pottery Barn-inspired island with cross bar sides and basket storage underneath.
An old industrial cart and oak table form the base for this DIY rustic kitchen island. The old cart was given a good sanding so all of its imperfections really shine.
A built-in island is given a rustic wraparound for seating space out of reclaimed wood. This achieves a very appealing look!
This rustic island started out as an old metal military desk. The rusty, green base and weathered wood of the prep space give this kitchen a whole lot of extra personality. Doesn't it look great paired with the white cabinets and backsplash?
Rustic DIY Kitchen Island
This island is a good example of how rustic can still be beautiful. The combination of the antique white base and dark walnut top is irresistible. Galvanized bucket storage is perfect underneath.
A rustic island with touches of industrial fits right into this vintage-inspired kitchen. The island is bolted to the floor with industrial legs, and includes a drawer space underneath large enough to hold those bulky kitchen tools you can't do without.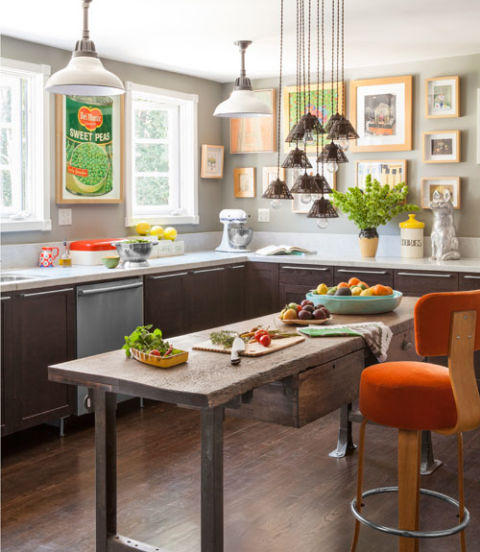 With a lot of available space for an island, something like this rustic beauty would provide a lot of work space, extra seating, and tons of extra storage options as well.
Restoration Hardware provides the inspiration for a salvaged wood island. Giving new life to old wood is so satisfying, especially when you can make it look like this!
With this tutorial, you too can make this DIY rustic kitchen island. Use some 4x4s and blue paint.