Reclaimed wood DIY pallet projects are some of the most fun, versatile DIY wood projects you can do! Everything from how to deconstruct a pallet to amazing ways to repurpose them is found in this list of projects. Take a look!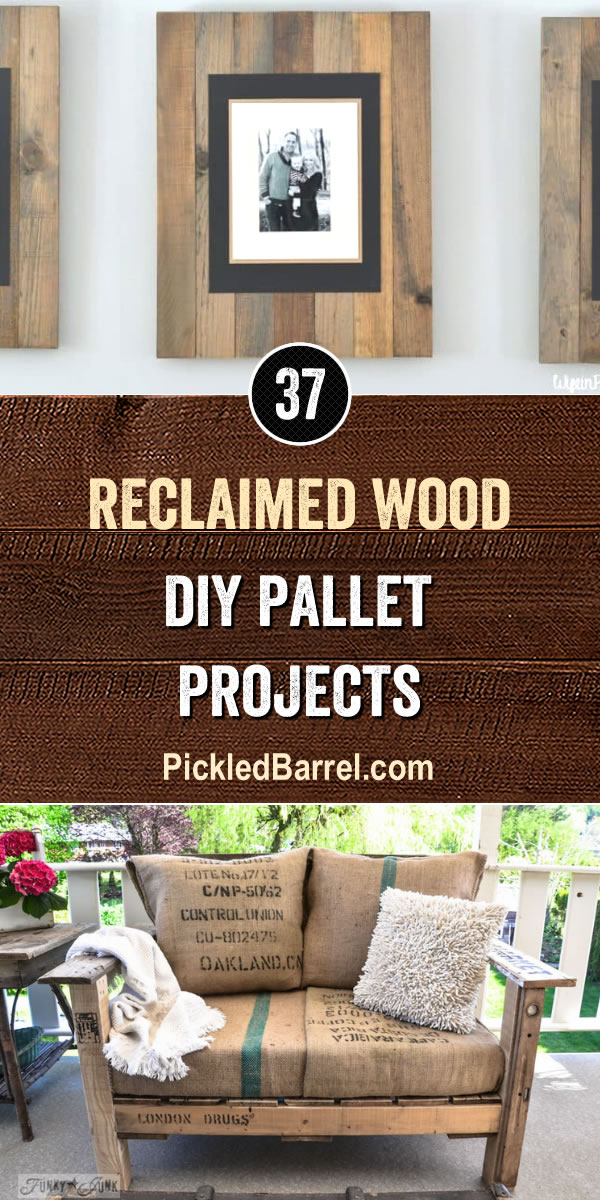 Intimidated by the thought of taking apart a pallet? Don't be! Just check out one of these two ways to conquer it. Before you know it, you'll be ready to remake that pallet into something amazing!
The Very Best Way to Take Apart Wooden Pallets
An easy way to take apart pallets or fences without fancy tools
Yes, you can convert a pallet into a sliding barn door. Here are two amazing examples. Just think, you can have a farmhouse style sliding barn door, and you'll only need to buy the hardware!
DIY: Pallet Sliding Barn Door
10 Pallets Double-sided Herringbone Barn Door
A daybed is another fantastic reclaimed wood DIY pallet project to consider. Here are three options to choose from. I love the patio daybed! Which is your favorite?
How to Build a Pallet Daybed
Pallet Project: Patio Day Bed
Whether you choose to use your DIY pallet wood box as a dining table centerpiece or a planter box for the patio, it doesn't matter. They're both awesome. Just make both!
DIY Pallet Wood Box
DIY Pallet Wood Planter Box
A rustic coffee table is another of the reclaimed wood DIY pallet projects that will totally transform an old pallet. Don't be afraid to try it.
How to Make the Perfect Pallet Coffee Table
Pallet Wood Sawhorse Coffee Table
That large farmhouse style clock you've had your eye on can be a reality. Just get a pallet and DIY it!
Roman Numeral Pallet Clock
Trash to Treasure: How to Make a Pallet Wood Clock
I think my home office needs a pallet desk like this! I love the first example, but the second is a great option for a small space.
How to Make a Pallet Desk
Repurposed Pallet Desk
There are any number of ways to make a charmingly rustic frame from a pallet. Here are just five of those ways. Personally, I love the frames that hang from industrial pipe best. How about you?
DIY Picture Frame: Get the Rustic Weathered Pallet Look
Reclaimed Wood & Chicken Wire Display Frame
DIY Rustic Frame Seed Bag
How to Make Picture Frames from Reclaimed Materials
Pallet and Scrap Wood DIY Picture Frames
If you're ambitious enough, even a couch or a chair can be constructed from pallet wood. But they aren't hard to build. You could finish either one in an afternoon!
DIY Pallet Couch
A cool pallet wood chair anyone can make in a couple of hours!
Reclaimed wood DIY pallet projects are perfect for gardeners. If you have space constraints, pay special attention to the vertical pallet gardens in this group.
DIY: Vertical Pallet Garden
How to Make an Herb Garden from a Pallet
DIY Vertical Pallet Gardening Table
Make a Potting Bench from Pallets & an Antique Window
Those large, farmhouse style wood letters we all love are a fabulous way to use a pallet. Here's how!
DIY Pallet Wood Letter
How To Make a Pallet Wood Letter
Here are just a couple of ways to DIY a charming planter from pallet wood.
DIY Pallet Slat Bin
Pallet Project: DIY Rustic Trugs & Planters
Need a wall rack to hang your hat collection, or a spot to dry herbs? Just use a pallet and DIY it!
Pallet Wood Wall Rack
DIY Rustic Chalkboard Herb Drying Rack
Entertaining is easier with one of these DIY pallet serving bars.
Portable Folding DIY Pallet Bar
DIY Pallet Potting Table, Buffet or Drink Service Area
Everyone loves a farmhouse sign. But a pallet sign just takes it over the top! My favorite is the "Be Grateful" pallet art. Which one do you love?
"Be Grateful" Pallet Art
Pallet Wood Sign
Pallet Wood Sign
Farmers Market Mini Pallet Sign
Finally, just a couple of reclaimed wood DIY pallet projects for your wall. I hope you feel inspired to complete your own!
DIY Pallet Art Display
{EAT} – Letters from Reclaimed Lumber