Kids seem to love smoothies–at least mine do! They always want to go to the local smoothie bar, but that can cost a lot more than just making them at home. To help you save money on smoothies, today's post features 12 smoothie recipes kids will love. This will show the kids that you can make them a smoothie that tastes even better than the smoothie bar. You'll both be happy! And you'll be even happier if you invest in a great smoothie-making blender. Find one at Amazon!
1.First up is a delicious pumpkin smoothie. The recipe also contains spinach, but your kids will never even know it's in there!
2. Here's another smoothie that will help you get some healthy greens into your kids without them knowing. This is an orange pineapple smoothie and it looks delicious!
3. These banana blueberry smoothies are such a pretty color, don't you think? I think the kids will agree!
4. I don't think my kids could resist a powered-up peach mango smoothie. The "power" comes from a little protein powder and a sneaky green vegetable of your choice.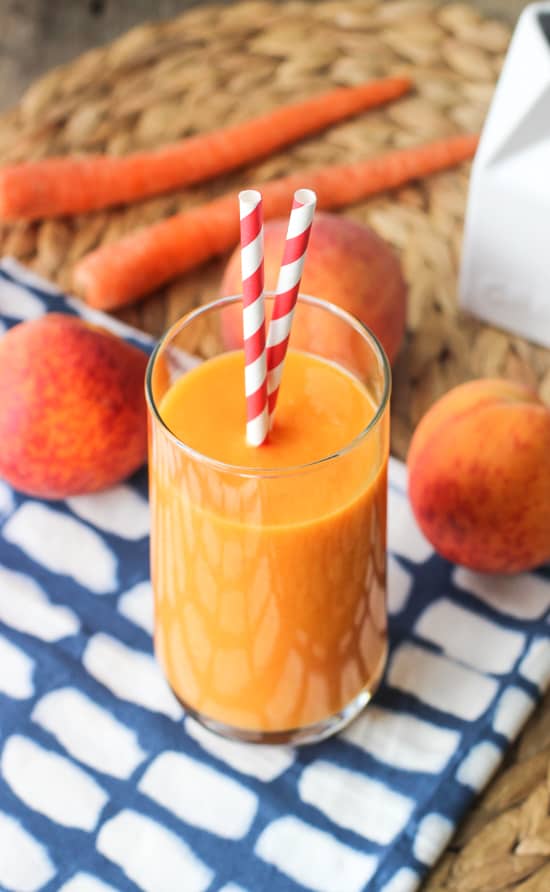 5. This Roasted Strawberry Cheesecake smoothie looks like it could pass for dessert! And yes, the strawberries are really roasted in the oven for 15 minutes to intensify their flavor. Yum!
6. Combine apples, pears and oatmeal in this perfect breakfast smoothie the whole family will love.
7. All the fruity flavors of summer, including pineapple, mango & strawberries are in this smoothie. I might try this one first!
8. This list wouldn't be complete with a berry smoothie recipe. This one also has kiwi in it. Throw in some chia or hemp seeds for a boost of healthy fats.
9. This healthy banana cream pie smoothie just looks amazing. A few vanilla wafers thrown in are what give it that pie taste. Yum!
10. Chocolate milk gives this smoothie the taste of a banana split. That definitely makes it kid-worthy!
11. Put a PB & J into smoothie form and it's sure to be a hit with kids–of any age!
12. A chocolate peanut butter smoothie with hidden greens that tastes delicious? Oh yes, it certainly looks that way.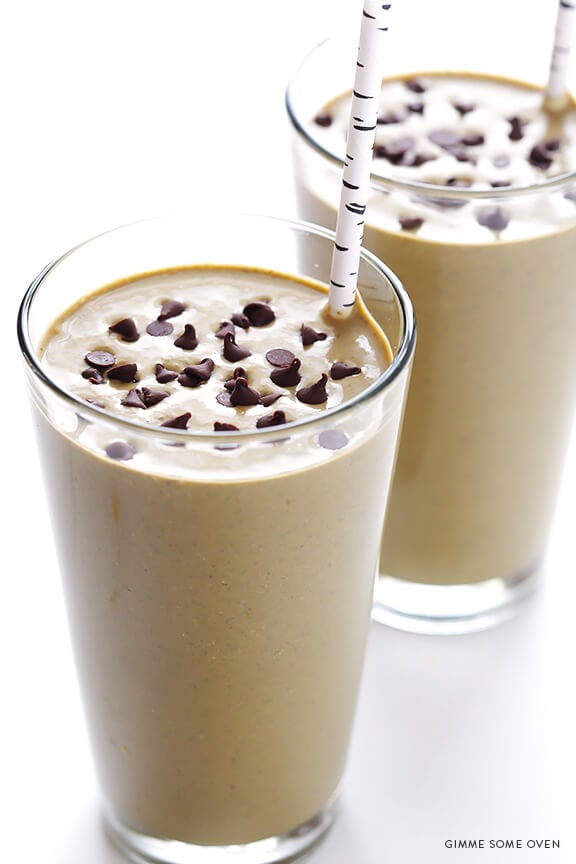 Here are the links to each recipe featured in this post:
The Suburban Mom pumpkin smoothie
Simply Designing orange pineapple green smoothie
What's Gaby Cooking banana blueberry
My Sequined Life power peach mango
Flavor the Moments Roasted Strawberry Cheesecake smoothie
Kristine's Kitchen apple-pear oatmeal
Aberdeen's Kitchen tropical summer smoothie
The Pretty Bee triple berry kiwi
Baker by Nature healthy banana cream pie smoothie
She Knows banana split smoothie
Delish PB & J smoothie
Gimme Some Oven chocolate peanut butter greens smoothie