Burlap is great for so many uses, but at Pickled Barrel we especially love burlap for its rustic appeal! Whether you want to use burlap for home, wedding decor or any other crafty purpose, you need to know how to cut it correctly. Once it's cut in a straight line, you also need to know how to keep it from unraveling. Today's post will show you how to accomplish both. Find a variety of colors of burlap at Michaels!
To cut burlap in a straight line, you need to measure it first. Measure what you need so you know exactly where you want your cut. Once you locate the precise area, you need to find one of the strands protruding from the edge. Grasp the end of the strand firmly, and pull it out of the burlap completely. As you pull, the burlap will ruffle, but keep pulling until the strand is pulled free.
Once the strand is removed, you should be left with a nice little channel that will guide your scissors in a perfectly straight line from one end to the other. So easy!
After you have cut your burlap as desired, here is the best & quickest tip for protecting the edges so that they'll never unravel. Grab a bottle of Mod Podge. If you need some, you'll find it at Amazon in a variety of sizes. Use a small brush to apply a thin layer of Mod Podge along the cut edges of the burlap. Let it dry, and you're set! This tip also works for canvas applications.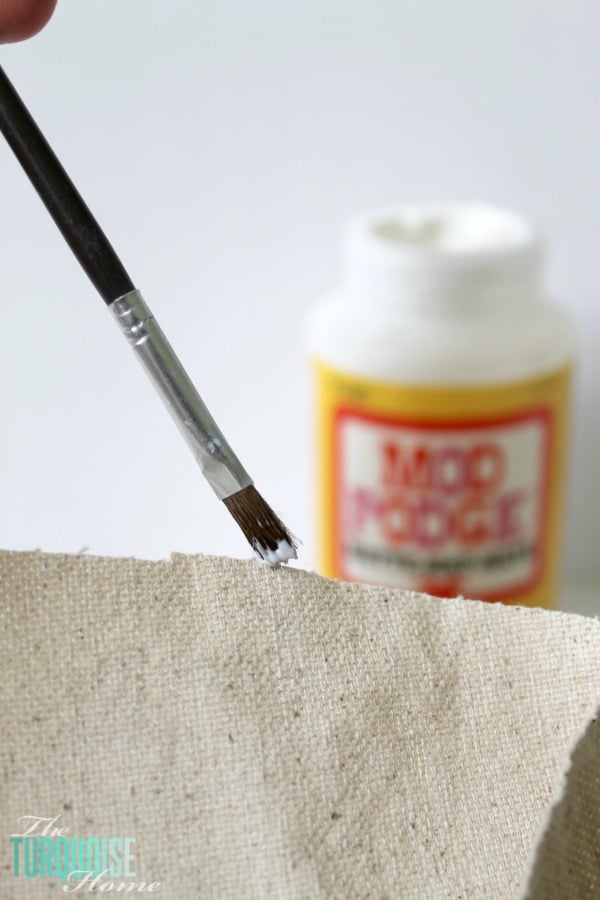 Another way to protect the edges of your burlap is to apply some masking tape or fabric binding to the backside. It will hold the edges and keep them from unraveling in a pinch, but the best way is to use Mod Podge, or to sew them with a zig zag stitch on your sewing machine. Good luck!
For more burlap tips, see the following sites:
Craftsy how to sew burlap
Dying for more rustic crafts? Here are a few reader favorites:
How to Make Your Laundry Room Look Seriously Rustic