Join me for a look at some fabulous farmhouse DIY Dollar Store painted pumpkins! They'll give you great ideas and inspiration for your Fall decorating. Then keep coming back, because Pickled Barrel has you covered for all things Fall!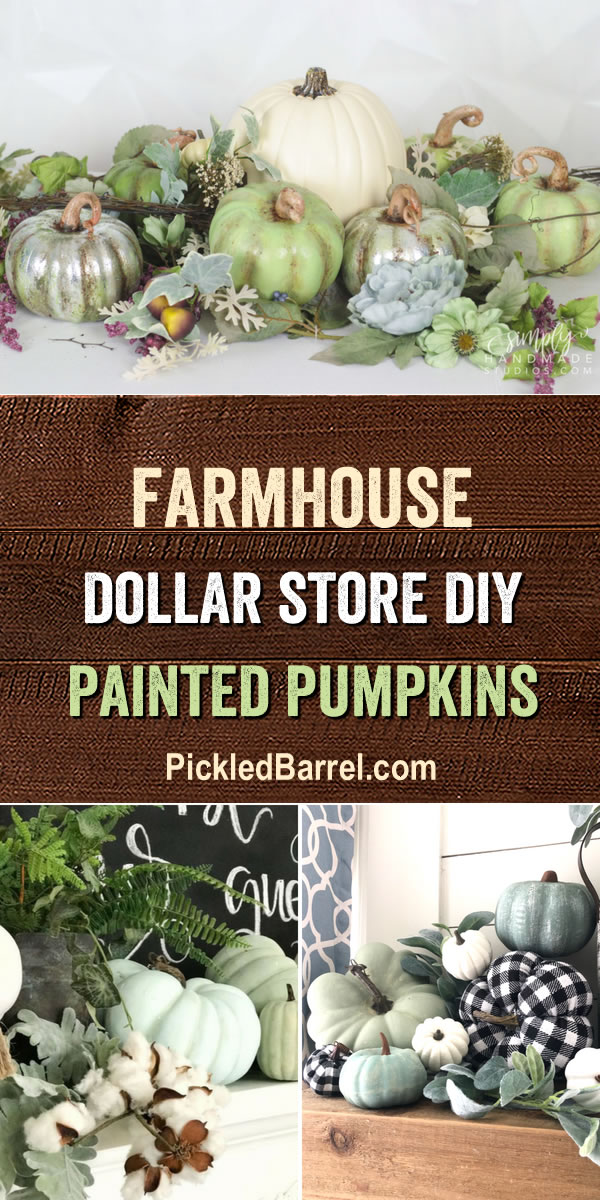 With some simple Dollar Store plastic pumpkins, some paint, and this tutorial, you can DIY these fabulous heirloom pumpkins for your Fall mantel. Keep scrolling down this page to see all the ways you can use paint to give your foam pumpkins a definite designer look!
Pumpkin Painting Ideas | Dollar Tree DIY Pumpkin Designs
DIY Fall painted foam Pumpkins using Dollar Tree and Walmart pumpkins!
DIY Heirloom Pumpkin Tutorial
Create Heirloom Pumpkins from the Dollar Store
Painted Pumpkin Tutorial
Dollar Tree DIY Fall Décor
More options for farmhouse DIY Dollar Store painted pumpkins, because you can't have too many!
Dollar Store DIY: Fall Pumpkin Candle Holder
Convert those foam pumpkins into Fall-fabulous pumpkin candle holders. You'll want some Dollar Store faux flowers for this project.
Distressed Dollar Store Pumpkins with a Crackle Finish
Distressed Dollar Store pumpkins with a crackle finish are perfect for farmhouse décor.
DIY Dollar Tree Country Style Fall Pumpkins
A few supplies are all you need for farmhouse DIY Dollar Store painted pumpkins with country appeal. You can reuse these year after year!
Dollar Store Pumpkin Makeover
I love the idea to use a small tree branch for the stem of your Dollar Store pumpkins. I'd say it gives them a complete makeover!
Faux Concrete Pumpkin
You would never guess that this pumpkin is faux concrete….unless you picked it up!
Painted Dollar Store Pumpkins | How to Get a Weathered Texture Finish with Fusion Fresco
Fresco by Fusion mineral paint gives your Dollar Store pumpkins a sensational weathered finish. No one will know you started with Dollar Store pumpkins!
Pumpkins, Pinecones and Leaves… Oh My!
I love the finish on these farmhouse DIY Dollar Tree painted pumpkins! Just pair them up with Fall leaves and pinecones for a cool weather centerpiece you can use all Fall long.
DIY Shabby Vintage Burlap Pumpkins
Here is all the inspiration I need to paint a few burlap pumpkins and make them look extra special.
Pumpkin Decorating Ideas: Metallic Foil Pumpkins
Add a little metallic foil to the paint, and Dollar Store foam pumpkins become glamorous pumpkins!
DIY Galvanized Pumpkins
This is a unique pumpkin makeover that I would have never thought of myself, but I like it! If your farmhouse décor includes galvanized metal, these will fit right in.
Dollar Store Pumpkin: How to Make it Fabulously Metallic
Another farmhouse DIY Dollar Store painted pumpkin that's fabulously farmhouse chic!
DIY Faux Mercury Glass Pumpkins (with foam pumpkins!)
Now I've seen everything! Mercury glass spray paint even works on foam pumpkins.
How to make this great Jack O Lantern Totem Pole
After seeing this, I think my Fall porch décor is set.
$1.00 Pumpkin Makeover
This is the perfect Dollar Store DIY for your Thanksgiving table!
Simple Rusty Pumpkin Craft for Your Fall Decor
Give those pumpkins a rustic look. It's a simple rust finish anyone can do!
How to age and antique your decor and accessories
At Pickled Barrel, we love our rustic finishes. This list wouldn't be complete with a look at how to age all of your Fall décor.