Welcome! Today we're sharing more farmhouse Dollar Store DIY decorations inspired by Joanna Gaines! Enjoy!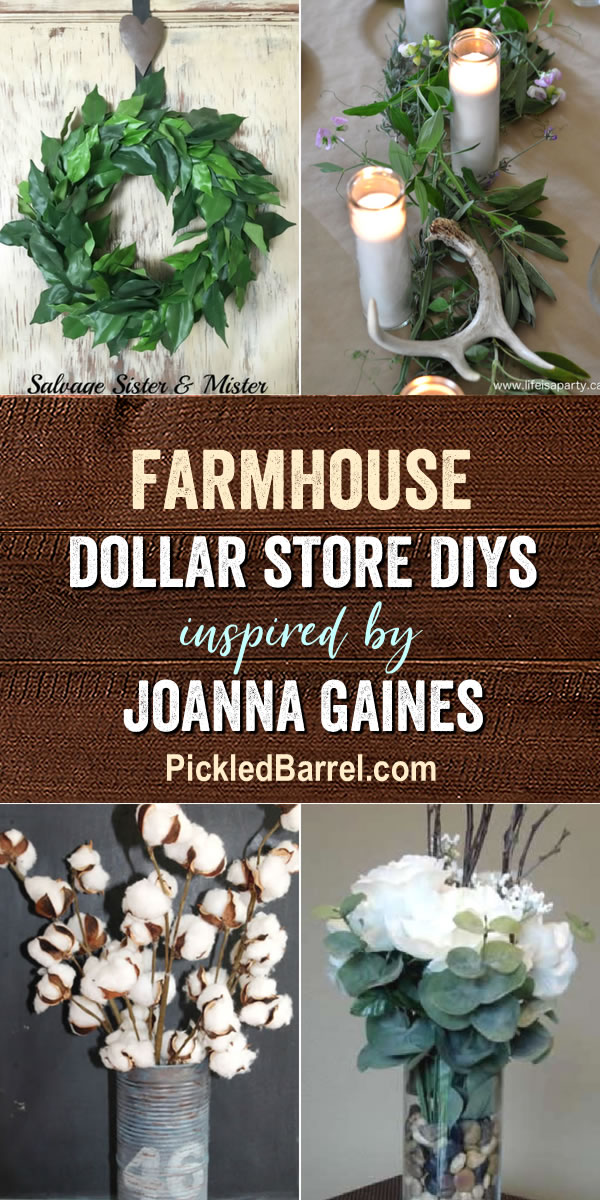 DIY $5 Elegant Dollar Store Centerpiece Tutorial
Would you expect "elegant" and "Dollar Store" to be in the same sentence? Well, this project proves it's a definite possibility!
Transform Fake Flowers to Look Real
You really can transform those Dollar Store faux flowers so that they look real. Don't miss this project!
Rustic Casual Tablescape
Love the simplicity and elegance of this tablescape made with dollar store candles and greenery.
Gold Glass Cloche
To make this farmhouse Dollar Store DIY, you only need a few simple things from the Dollar Store. Put them together, and this is what you get!
DIY Cloche Jars
The same thing goes for these cloche jars that make wonderful terrariums.
How to Make a Bargain Faux Magnolia Wreath
A bargain faux magnolia wreath? Yep! Just follow this easy tutorial.
How to Make a Magnolia Wreath – Fixer Upper Style
A Fixer Upper-style faux magnolia wreath is in your future. All you need are some simple Dollar Store supplies, and a little bit of know-how.
Wire Orb Topiary DIY
Make a wire orb topiary to instantly elevate your faux greenery to the next level.
DIY Topiary Trees from Dollar Store Supplies
I wouldn't believe it if I didn't know it was true: these DIY topiary trees really do start with Dollar Store supplies!
DIY Tin Can Vase
The charm of this DIY tin can vase is exceptional!
Farmhouse Dollar Tree Hack
This quick DIY hack will give you some stunning farmhouse vases for a song.
Dollar Tree DIY
Another farmhouse Dollar Store DIY that looks like you'd find it in one of Joanna's designs.
Farmhouse Style Wire Wall Baskets (From Dollar Store Items)
You should definitely go to the Dollar Store for the items to make this DIY wire wall baskets project.
Hexagon Honeycomb Shelves Made With Popsicle Sticks Tutorial
Here again is a project that looks like Joanna Gaines herself made it!
How to make a captain mirror from a $1 burner cover
Finally, make a Joanna Gaines-inspired farmhouse Dollar Store DIY captain's mirror out of a Dollar Store stove burner cover. Amazing!