Do you follow Liz Marie Blog? After you see today's post, you may want to! Today we are showing you our favorite DIY Fall décor from Liz Marie Blog. There's some really great stuff to see, so stick around!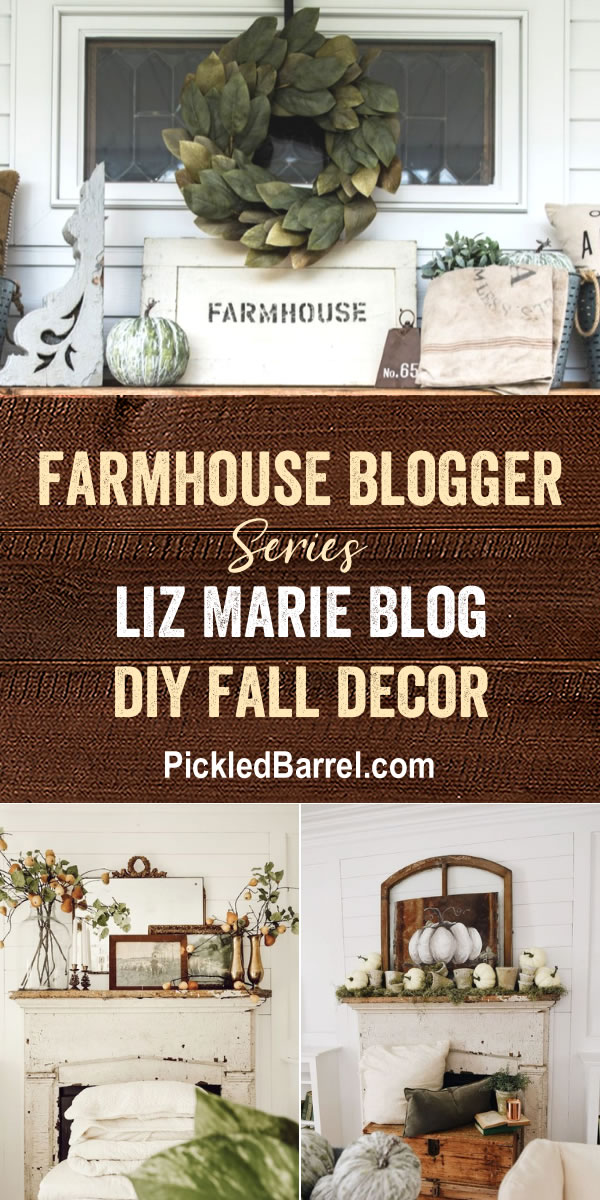 What's more Fall-ish than rustic scroll art for Halloween? DIY cotton branches look amazing housed in amber bottles! Check out the eclectic fall mantel featuring pears–who says your mantel has to be pumpkin-centered? Liz Marie Blog knows her fall tablescapes and porch décor. Don't miss any of these!
Fall Scroll Art
Amber Bottles & Cotton Fall Decor
Eclectic Antique Fall Pear Mantel
A Simple Cozy Fall Family Room
A simple Amber Bottle Fall Tablescape
Fall Tablescape In The Field
Farmhouse Fall Porch Steps
DIY Fall décor comes in many pumpkin variations over at Liz Marie Blog. I really love the rustic fall crates and cozy farmhouse fall sunroom!
Rustic Fall Crates
Neutral Early Fall Home Tour
Neutral Fall Decor – Heirloom pumpkin Coffee Table
DIY Fall Pumpkin Sign
Cozy Farmhouse Fall Sunroom
Basket O' Pumpkins Centerpiece
Some great ideas for DIY fall décor for your entryway here, from simple to rustic. Which will you choose?
Simple Fall Farmhouse Entryway
Welcoming Fall Entryway – Rustic Farmhouse Entry
Liz Marie Blog is a great place to find inspiration for your fall family room décor. Loving the simple neutrals and the rustic garden fall mantel. Beautiful!
Simple Fall Crate Centerpiece
Rustic Garden Fall Mantel
Simple Neutral Fall Family Room
Dress up your fall table with these DIY fall décor ideas. After looking at these, I think my Thanksgiving table is all but done! Which is your favorite?
Simple Dough Bowl Fall Centerpiece
Rustic Heirloom Pumpkin Thanksgiving Table
Simple & Neutral Fall Farmhouse Dining Room
Rustic Garden Fall Dining Room Table
Happy Fall – Rustic Pumpkin & Pear Farmhouse Table
Dried Hydrangea Fall Tablescape
Rustic Natural Thanksgiving Table
We've featured some beautiful fall porch décor ideas here at Pickled Barrel, so why stop? I'm going to make the DIY farmhouse-style nesting boxes for sure! And if you were stumped on how to decorate your porch steps, these ideas will probably help!
DIY Farmhouse Style Nesting Boxes
Rustic Cottage Farmhouse Fall Porch Steps
Rustic Fall Farmhouse Steps
Crocks & Mums – Farmhouse Fall Steps