Are you a little bit country? Country is a style that is usually associated with the outdoors, a sense of ease, comfort, and a laid-back feel. But you don't have to live in the backwoods to incorporate some country into your home decorating style. Today I have a round up of 10 ways to bring a little country into your home, no matter where you live.
1.Colors are important when considering country style. Soft, muted colors are generally the most popular colors in country decorating. This country-style living room uses a very neutral color theme that is both warm and inviting.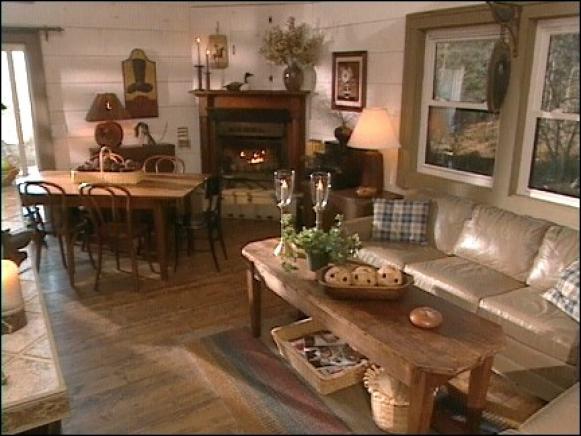 2. Here's an example of a more contemporary country style.  Bright pops of red in the pillows and lampshade have been brought in. They wake up the entire space and move the eye around the room.
3. It is entirely possible to blend country into other decorating styles, including contemporary and minimalist. The country accents in this room include the log table, basket and fireplace fern.
4. Sometimes all you need is a country vibe, and that's true in this beautiful kitchen seen at Homedit. The country vibe is evident in many ways, including the painted cabinetry, warm wood countertop, and the creamy white dishware displayed on open shelves.
5. The textures of this country bathroom space are what make it. Don't you want to just reach out and touch all the surfaces?
6. Country style can even be masculine. This room, with its natural wood walls and clean lines, seamlessly blends country with contemporary masculine style.
7. This bathroom is modern and country all at once. The painted cabinets supply a pop of soothing color that balances with the fireplace, and the rustic wood floor is warm and inviting. The white ottoman brings a touch of country-style comfort.
8. If you associate country with a homey feel, then this is the living room for you. I don't think anyone could resist plopping down and enjoying an afternoon here. There are so many country elements to love–the rug, coffee table and plants to name a few.
9. Country style is also eclectic–perfect for those who love to decorate with flea market and thrift store finds.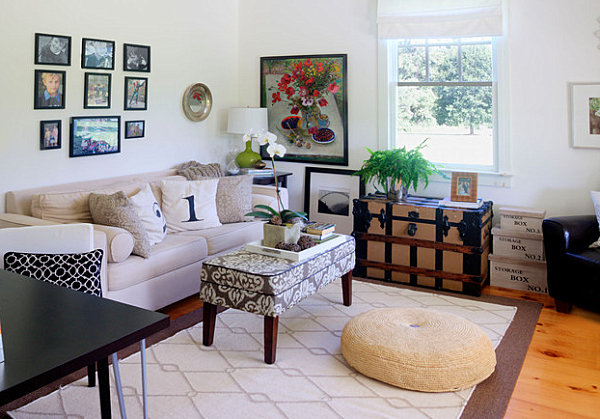 10. If you want to bring a bit of country feel to your kitchen, you can start simple. Try incorporating some elements of copper as seen in this kitchen from Milk & Honey Home.