How many of us have a yard of various fabrics leftover from other projects? If you do, then get ready for this post! I'm going to show you 10 amazing things you can make from just one yard of fabric. Get ready to get crafty with me!
1. Are you tired of your toaster sitting on the counter, yet you have no space to tuck it away? Use that yard of fabric to make a cover that'll have that toaster sitting pretty.
2. An old footstool gets a second lease on life from a footstool cover you can sew up in no time.
3. If you've got a yard of fabric, plus some faux leather for the bottom and another half a yard to line it with, you can fashion this cute DIY backpack.
4. See I Heart Naptime for a tutorial for this adorable DIY Infinity scarf. Less than a yard is all it takes!
5. Here's a very cute double-layer square circle skirt that takes only minutes to make. See Make It Love It for the tutorial.
6. With only one yard of fabric, you can make this no-sew window treatment that can be used three different ways. I love it!
7. Visit Ayumi at Pink Penguin to find out how to make your own version of this amazingly cute lunch bag. And really, you could use this bag for anything, not just lunch!
8. Visit Craftsy for your free bowtie pattern. It's a classy look for any guy!
9. A yard of vintage material would be perfect for this free vintage DIY skirt pattern from All Free Sewing.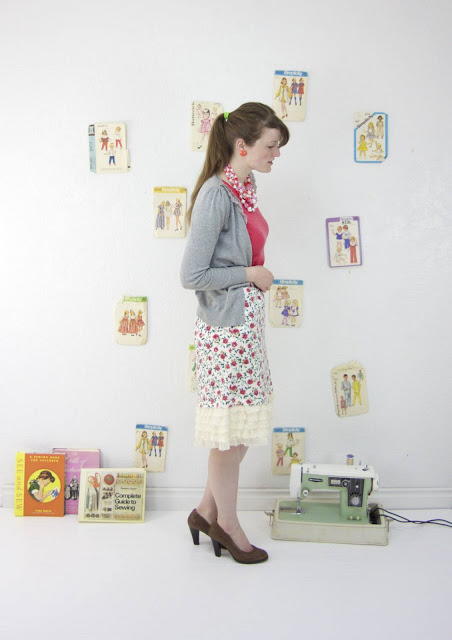 10. Finally, one yard of fabric is perfect for baby clothes. Click here for a tutorial to make an adorable One Yard Baby Tunic.