Country backsplashes are warm, inviting and perfect for a relaxed, rustic or farmhouse kitchen. They also work well for a kitchen where you want to display a little personality and unique design ideas. Before you plan out your new kitchen backsplash, take a look at these cute country backsplash ideas that are sure to inspire you to plan a kitchen remodel!
The blue color of this backsplash has country written all over it, plus it's a very unique and whimsical look that just might play tricks on the eyes of all your guests.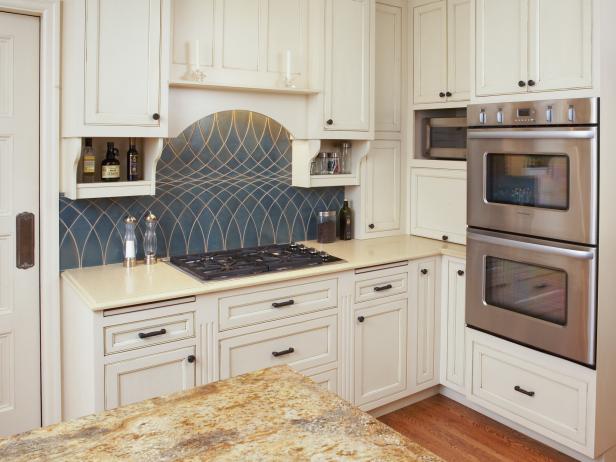 Talk about a country look–this pallet wood backsplash is absolutely beautiful! Be sure to treat the wood with a satin polyurethane for extra protection from the wet environment of a kitchen.
Instead of tile, use small stones and pebbles for the backsplash of your kitchen. The texture is amazing! It's certainly a warm and rustic country look that is earthy and inviting.
Blue isn't the only color that says country. A lovely green is always a good choice. These green tiles in varying shades just add so much to country style to this kitchen.
A chicken wire backsplash? You really can't get much more country and rustic than this! It adds an interesting 3D look when mounted in front of the wall instead of flush to the wall. This could be an easy DIY project, too.
Glass pebbles are another country backsplash option. They provide texture, beauty and shine in a range of colors. You only have to choose!
Would you believe that burlap can serve as a backsplash? This example has favorite recipes printed on it for added interest. It's a DIY project from the DIY network.