Today I have some bookshelf ideas for you. Bookshelves don't have to be boring, and these DIY ideas prove it. Take a look at these 11 fun and folksy bookshelves.
1.This first bookshelf is amazing and one-of-a-kind. Veronica wanted a bookshelf inspired by a mandala, and her carpenter completely nailed the look!
2. How about books that look as if they are freely suspended against the wall? I love this invisible bookshelf idea!
3. Repurpose an old or thrift store ladder into a bookshelf that will hold lots of books in a minimal amount of space.
4. Turn a pallet into a fun bookshelf with hardly any effort!  This is just one example of how a pallet can become a bookshelf.
5. A pallet can also make a set of bookshelves that are perfect for kids' books. You can make this in under an hour!
6. This DIY rope shelf is definitely fun and folksy! It can hold books or any number of items you want to display.
7. Here's another example of rope shelving, and this one is an easy DIY from Remodelaholic.
8. Why not get some wooden crates and arrange them into something more fun? The crates could also be painted in fun colors.
9. Some wood boards stained to your liking, arranged and supported between concrete blocks creates a sturdy but fun bookshelf that will hold lots of books.
10. Wood boxes in varying shapes are arranged into a fun geometric bookshelf. This one fits perfectly into a space underneath the stairs.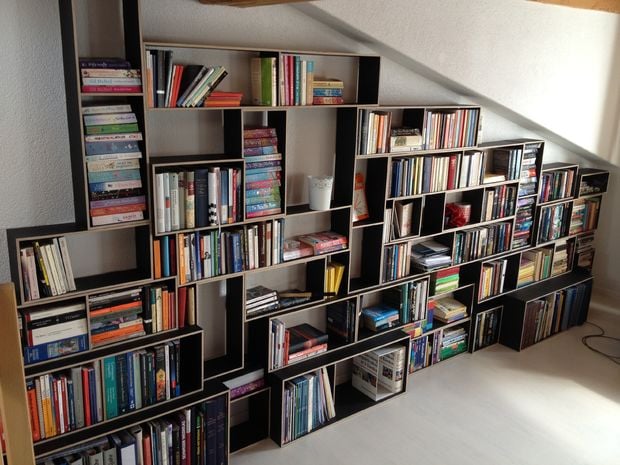 11. How fun is this DIY bookshelf held together with colorful clamps? They are just shelf brackets that are painted in varying colors.