Vintage wire baskets are certainly rustic, and at Pickled Barrel we love rustic! Today's post focuses on 10 rustic ways to decorate with vintage wire baskets. Don't miss it, because you're sure to learn some fantastic ways to use wire baskets that you may not have thought of. Check it out!
1. One way to use decorate with those vintage wire baskets is to hang them on the wall. The options for this are pretty endless!
2. A unique way to decorate with wire baskets is to attach twine to them and hang them from hooks on the wall. I think this is really charming!
3. Find some pretty glass bottles at your local Dollar Tree. They look lovely inside a wire basket on your farmhouse table!
4. Use wire baskets to corral the non-refrigerated condiments on your kitchen counter.
5. Use spray paint to change the color of any vintage wire basket and make it fit your decor.
6. Convert a vintage wire basket into a light shade!
7. Use a wire basket to hold the day's mail until you have time to go through it.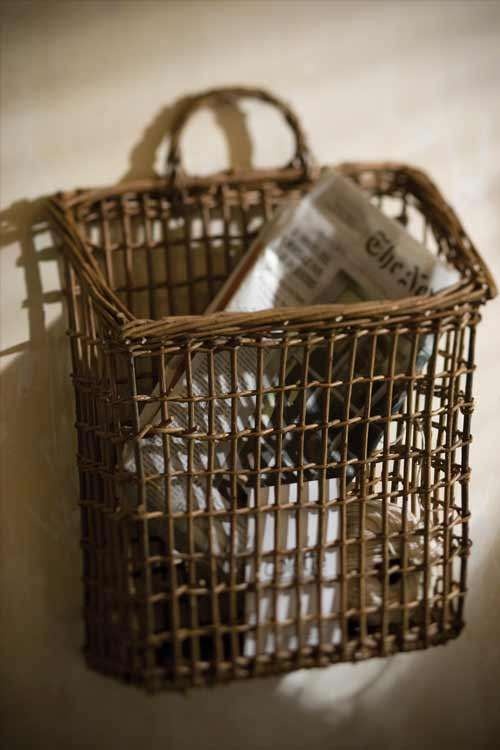 8. Pretty vintage wire baskets are perfect used as shelves in your closet. The provide a ton of extra storage space when mounted on the wall or the back of your closet door.
9. This wire basket is hung over a dining table and filled with battery-operated candles to create a one-of-a-kind chandelier. I love this!
10. Instead of mounting a wire basket with the bottom to the wall, turn it bottom out. Now mount your favorite pictures to it with clothespins. It's awesome!
For more on the vintage wire basket decor ideas featured in this post, click the following links:
Little Vintage Nest decorating with wire baskets
Homedit kitchen condiment organization
Apartment Therapy makeover a basket with spray paint
Apartment Therapy light shade
Tidbits & Twine decorating with baskets
The Decor Fix vintage wire baskets
Paul Michael Company vintage basket chandelier
Paul Michael Company wire basket photo holder