Coasters have an important job around the house. They protect our wood surfaces from water marks and stains caused by the condensation that forms on cold beverages. Instead of going out and buying whatever the store has, try making your own coasters. They're infinitely cooler, more fun and can help your surfaces with style. Here's how to make your own DIY coasters!
For a simple but stylish coaster, use those mason jar lids you have accumulated. Just add some cork with some paint and a stencil to add your last initial. See a full tutorial at Life of Bliss.
If you happen to have a cowhide style rug, then these coasters are for you! Oh So Beautiful Paper shows you how to create DIY mini cowhide coasters. They're pretty amazing!
For a colorful coaster, try clear resin with colorful buttons, beads, or other objects encased inside. See how at Ashley Hackshaw.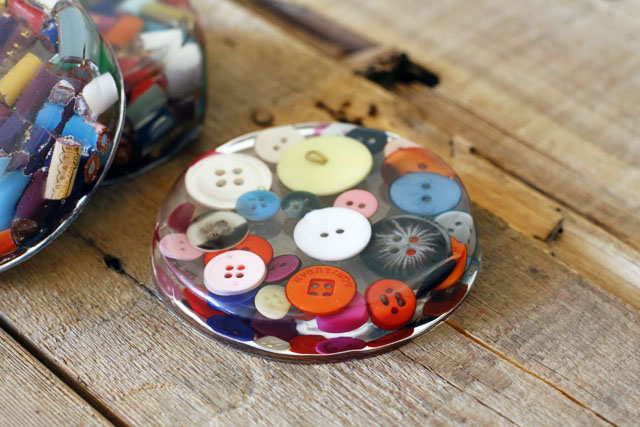 One of the easiest yet fanciest types of DIY coasters is to decoupage wallpaper patterns onto ceramic tiles. The Cottage Mama did it, and so can you!
If rustic style is your kind of style, make some coasters that look just like miniature wood pallets. Pretty darn adorable!
Another naturally rustic option is to use wood slices and decorate them with pretty botanical patterns. See more at Tidbits.
Do you crochet? That's a great medium for making your own coasters. See some examples at A Beautiful Mess.
Finally, can you pass up these amazing creations? These coasters are made from clay! See how to make these marbled clay coasters at Sisoo.