Don't redecorate your bedroom until you see these fabulous farmhouse style bedroom decor ideas. There is so much to love here. I'll warn you, it might be hard to choose which ideas you want to use. Good thing you can probably get away with incorporating all of them if you like!
The first in this list of farmhouse style bedroom decor ideas isn't just your run-of-the-mill gallery wall. This one is a layered gallery wall. I think it really stands out from the rest!
Layered Picture Gallery Above Bed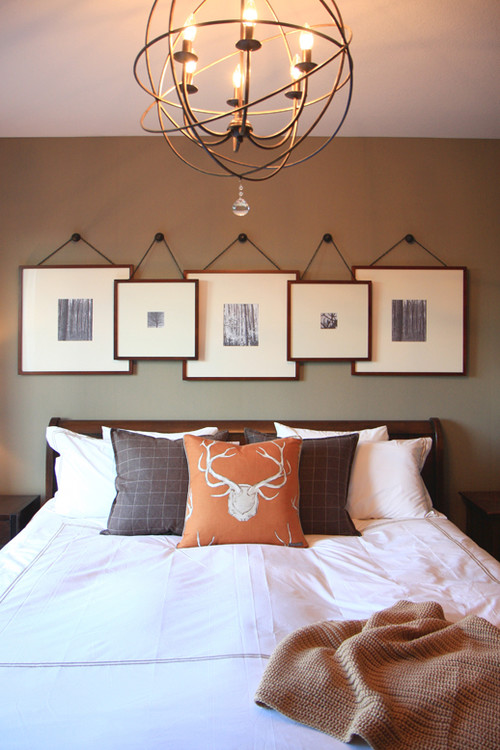 Vintage decor is one of the most perfect moves you can make for a farmhouse style bedroom. I'm seriously loving the bed frame, bench, and vintage wall art!
Vintage Decor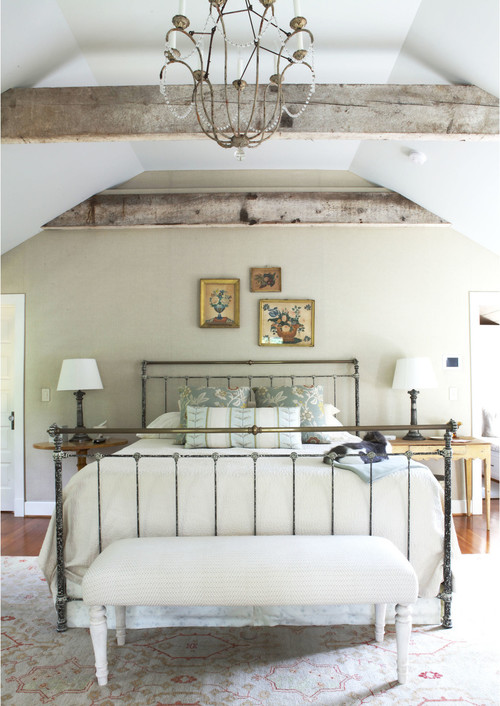 Everything from the vintage mirror, to the basket, to the blue-and-white urn on the table ties this farmhouse style bedroom together. The hand-carved velvet upholstered bed is the real stand out here.
Hand-carved Velvet Upholstered Bed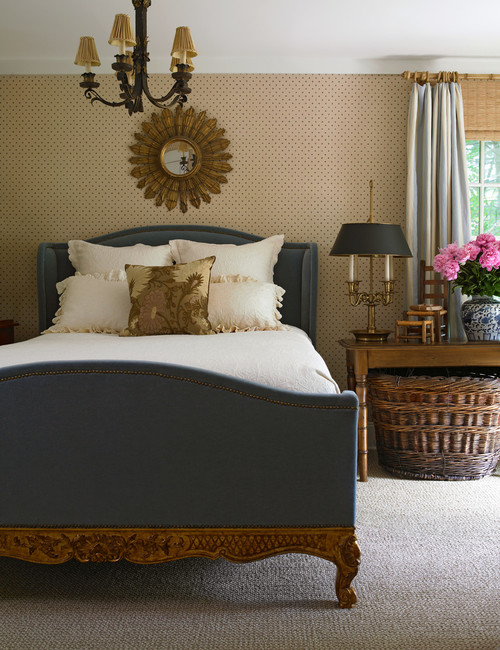 The reclaimed wood sliding barn door is the perfect entrance for the master bath. But everything from the wall basket to the glam chandelier screams farmhouse style. I adore the little sitting area!
Reclaimed Wood Sliding Barn Door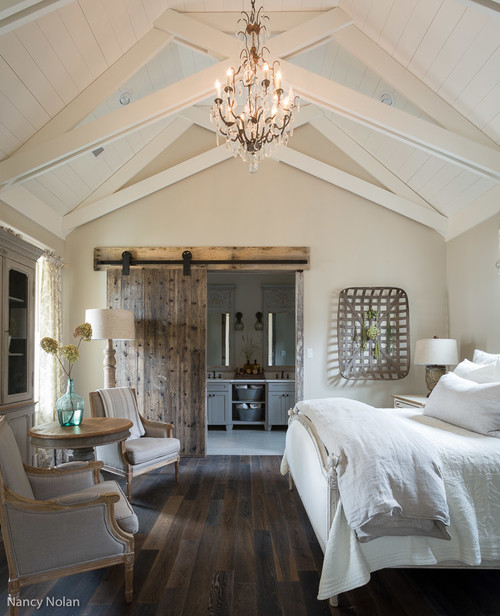 Boho vibes emanate from this beautiful bedroom. Notice how the color of the upholstered headboard is echoed in small touches around the room, such as the wall art and pillows.
Boho Vibes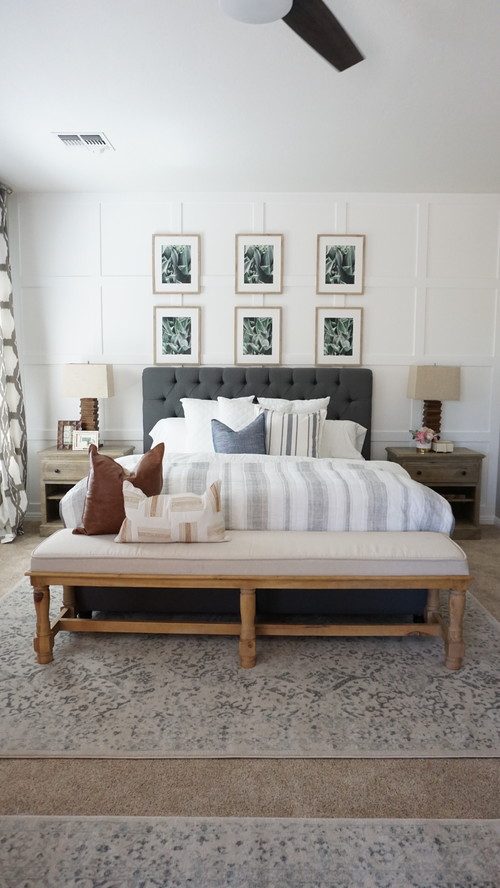 The word Moroccan should not deter you from using something like this gray bedding in your own farmhouse style bedroom. It's the perfect choice!
Gray Moroccan Bedding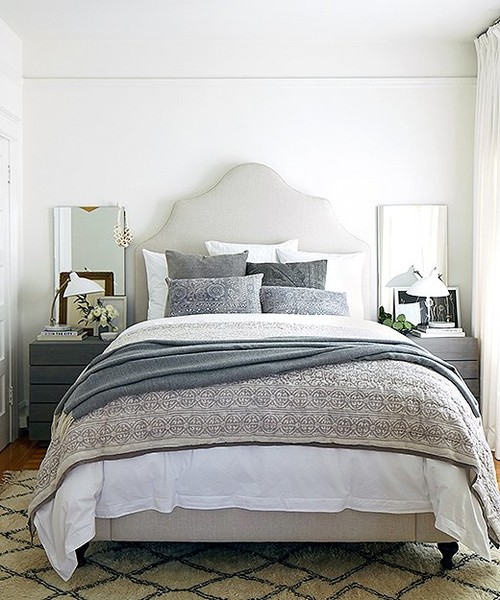 The colors of this bedroom are serene and relaxing. Decor items like the amazing chandelier, the mirrors flanking the bed, and the studded light gray leather benches provide just the right amount of glam.
Serene Glam Decor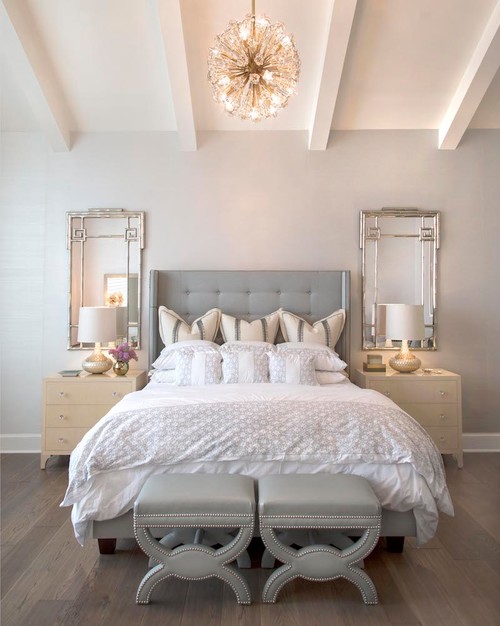 This farmhouse style bedroom idea highlights a great way to maximize the storage in a bedroom. The custom floor-to-ceiling cabinets are both stylish and functional.
Floor to Ceiling Custom Cabinets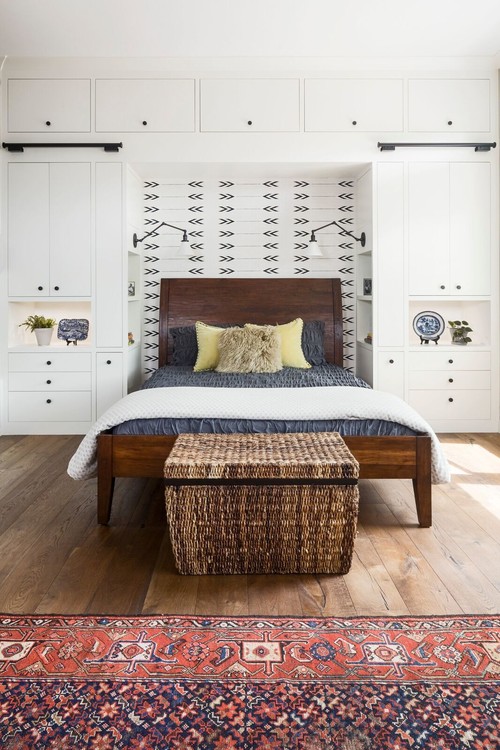 You know if it has Joanna Gaines' name on it, it has to have farmhouse flair. That's certainly true for this collection of textured pillows!
Joanna Gaines Rug Textured Pillows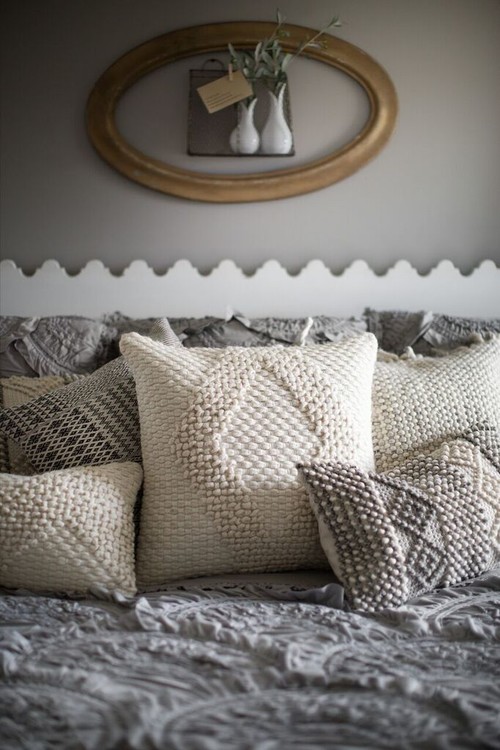 This dreamy wall mural is meant to promote a relaxing atmosphere perfect for a bedroom. It's certainly eclectic!
Dreamy Clouds Wall Mural