Before you plan the next Valentines Day party for your kid's class, check out these 12 scrumptious Valentines Day snacks! They are also perfect for an afternoon snack or even a special treat. The best part is, they are easy to make, and I've included some healthy options as well. Don't go away!
1.Kids love pretzels, and so it doesn't matter if you make rods or twists–they'll love this easy snack. Just dip pretzels in white chocolate and sprinkle on pink, red and white sprinkles.
2. Press refrigerated sugar cookie dough into muffin tins to form little cups, then bake. Fill them with Valentines Day M&Ms or other festive candies.
3. My kids love Clementines, do yours? Turn them into a conversation snack by just writing on the outside of the peels with a food grade marker.
4. Go to Wilton's decorating site to get the supplies to make some adorable Love Monster cupcakes.
5. Heart-shaped Rice Krispie treats are the cutest! Use icing to add your favorite words just like conversation hearts.
6 and 7. For another healthy suggestion, try strawberries on a stick. Carve the strawberries to look like hearts and add some red grapes. Serve them alongside strawberry cream cheese sandwiches!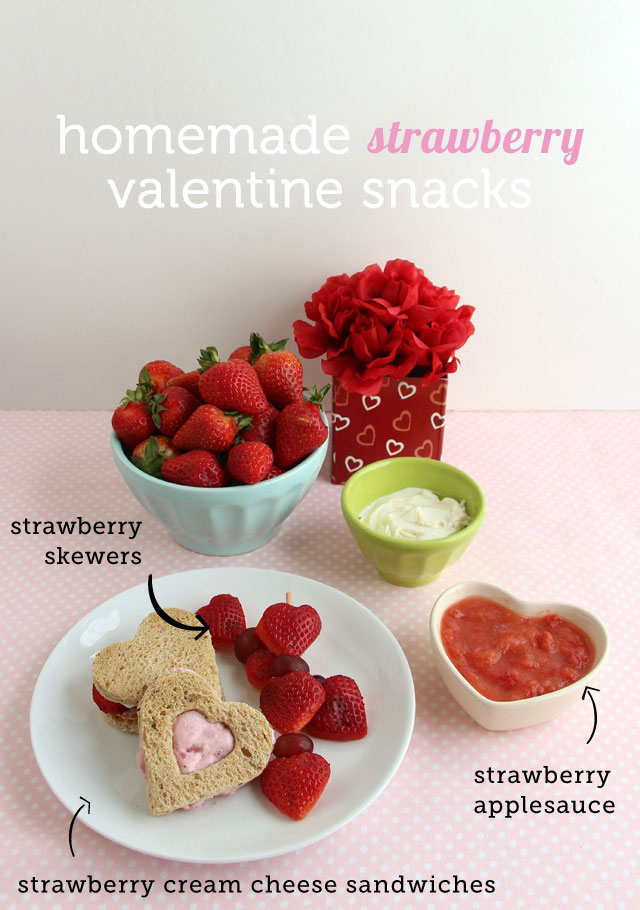 8. I think these warm & fuzzy coconut cake balls from Hungry Happenings are just about too cute to eat!
9. Cut an apple into rings, but cut the middle into a heart shape with a small cookie cutter. Spread the rings with nut butter, then add chocolate chips or granola for fun.
10. Strawberry-Banana Pops from Don't Panic Mom are also a healthy and pretty snack for Valentines Day.
11. Make your own chocolate donuts for Valentines Day! Aren't they pretty with Valentines sprinkles?
12. Kids and adults alike will love this Perfectly Pink Popcorn from Oh Nuts!
Craving more for Valentines Day? Don't go anywhere!
13 Delicious Non-Candy Valentines