Macrame is back in style, and it's a lovely way to hang your houseplants, especially those that do well in the direct sunlight of a window. There's really no reason not to try a macrame DIY project like one of these 10 easy plant hangers. Take a look at the amazing macrame plant hanger projects I found. I bet you'll want to make more than one!
1.This modern macrame hanger reminds me of something I'd see in the pages of Joanna Gaines' magazine or on her TV show. I seriously love it!
2. Dress up an otherwise neutral design with splashes of color from embroidery floss. It's easy to just wrap it and go.
3. Love knots make a simple but beautiful design to hang a small vase filled with greenery and flowers. Find parachute cord for this project at Michaels.
4. A macrame look with leather instead? Why not? It looks fantastic. All you need to do is make some cuts to the leather and shape it into your plant hanger.
5. You can also repurpose a t-shirt into a macrame plant hanger. Cut it into strips. A little braiding and tying later, you have a masterpiece like this!
6. I adore this larger version of the pink love knot hanger. It also shows you that you don't necessarily have to hang a houseplant–a bowl of flowers is a beautiful option!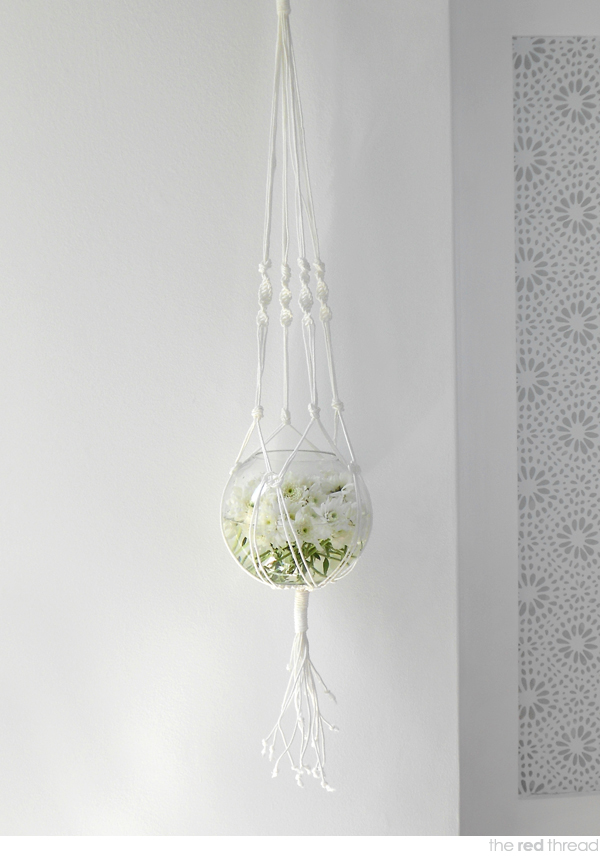 7. If you're up to the task, create an entire hanging garden with macrame projects. As you can see, they don't even have to be the same.
8. Twine is another good medium for macrame. These hanging planters are a great example of what you can do with it.
9. This mini-hanging garden is a combination of twine macrame, with repurposed eggshells as planters. Since they're dip-dyed, you would never guess!
10. Sisal rope and brass fittings combine to make a contemporary looking DIY macrame plant hanger. Brass fittings are easy to find at Amazon.
For more on the DIY macrame projects in this post, click the following links:
Deuce Cities Henhouse DIY modern plant hanger
Hello There Home planters with embroidery floss
Minieco love knot vase hanger
Design Sponge DIY leather plant hanger
Walk in Love t-shirt macrame plant hanger
We are Scout macrame hanging vase tutorial
Skinny La Minx hanging succulent garden
Apartment Therapy twine macrame planters
Apartment Therapy twine macrame & eggshell hanging planters
The Urchin Collective Sisal and brass plant hanger