Are you looking for something unique in your home that really stands out? Rusted sheet metal is your answer! Take a look at these rusted metal interior design ideas to get inspired.
Rusted Metal Interior Design Ideas
1. Use rusted sheet metal in your bedroom as an industrial chic headboard. There are lots of ways you could do it, but this example looks amazing paired against the wood wall.
2. This laundry room gains a ton of interest with a rusted sheet metal ceiling. Whoever thought of it is bordering on genius.
3. Sheet metal has lots of applications. Here it is used in place of drywall to wonderful effect. Such an interesting look!
4. Speaking of industrial chic, this master bedroom suite is a good example of what the use of sheet metal can do for a space.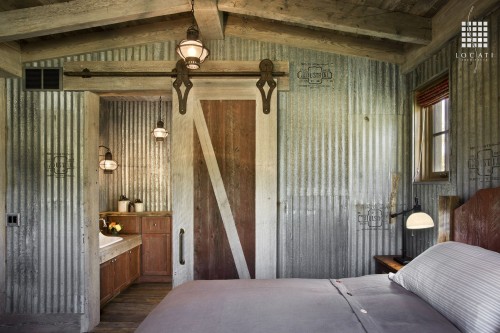 5. Love the use of sheet metal as wainscoting in this bedroom project. Such character!
6. In this example, rusted sheet metal is used as a very interesting wall treatment in a living room. No other art is needed on that wall.
7. I adore the sheet metal backsplash in this kitchen! It lends an instant farmhouse appeal to the entire space.
8. This amazing guest cottage uses rusted sheet metal in the bedroom, as well as other areas, which supplies the whole cottage with a farmhouse vibe. Pairing it with reclaimed wood furniture pieces is perfect.
9. Though this particular example has no rust spots, using sheet metal for a kitchen island is an awesome idea. Choosing a piece with rust spots would only increase the character of the island.
10. Here's a unique and beautiful bathroom look, perfect for that farmhouse or industrial chic look you are going for. Sheet metal is used as a tub surround, and looks completely at home with this claw foot tub and shiplap wall.
Before you go, be sure to check out my post on 10 ways to decorate with galvanized buckets!