Just because the warmer months are gone, you don't have to give up the idea of color in your yard. Decorate your window boxes, planters, and containers, with gorgeous fall flowers, squash, gourds, pumpkins, and grasses.
Bright displays of color and texture can keep the mood bright and cheery even if there is a crisp chill to the air.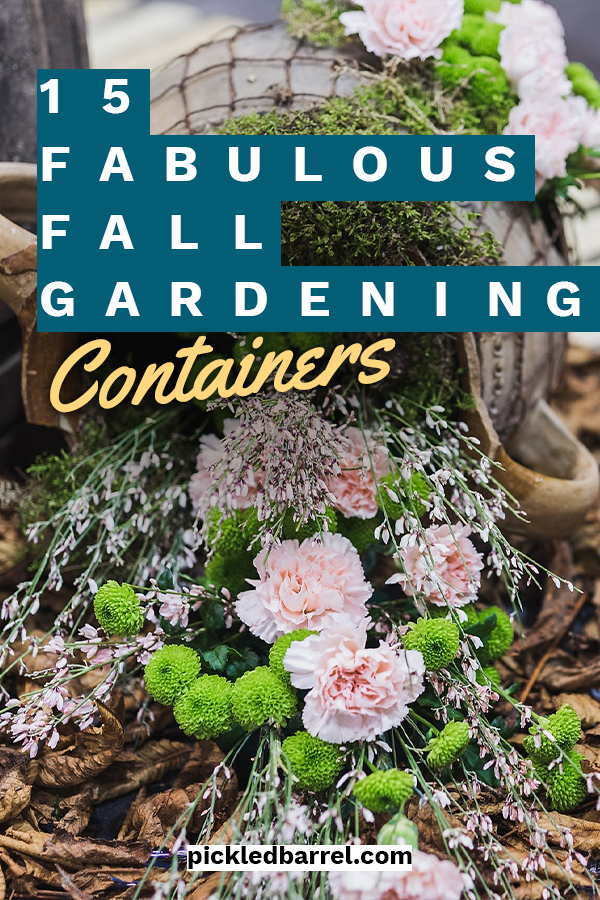 A great use of a tin bucket for a fall container. A mix of mums and grasses provide a fall feel especially when surrounded by pumpkins.
Orange and green make up this beautiful color scheme.
Wheelbarrows aren't just for hauling dirt. And a huge benefit for planting in wheelbarrows is that you can wheel them into the garage at night if the temperature drops.
Give some height to your container by adding dried grass and some iris pods. The base can be filled with kale and mums.
For the gardener on the go. Hibiscus for height and a mix of other colorful plants such as pansies, coleus, and lettuce.
Mixing licorice plant with yellow pansies along with Ivy is the perfect blend of height, texture, color, and flow of plants.
Fantastic display of color.
Gorgeous window box. Dried leaves and flowers, cabbage and pumpkins.
Country charm collection.
Stunning rustic display.
Scarecrow made of pots. Super cute and a fun idea for all your old pots. Have the kids help paint the pots.
Plant mums in pumpkins.
Who wouldn't love this on their front porch?
Window box stuffed with fall décor including squash and gourds.
Mums the word.