Give your Christmas tree a rustic touch this year with one or more of these DIY rustic ornament ideas.
1. First up are these rustic clear glass ornaments. A clear glass ornament shaped like an old C class tree light is filled with rumpled gingham ribbon. Pretty simple to put together, and very cute!
2. You can't get much more rustic than wood slices. These are burned with a wood burning tool and tied with twine and ribbon. Ornaments like these are easy to customize with your own word choice, or even a special date.
3.  Love the look of these paper ornaments, fashioned from vintage-inspired scrapbook paper and twine. Cut three equal circles from different prints of paper, fold in half and join the folds together in the center.
4.  Foam balls wrapped in ripped muslin ticking are about all that it takes to make these rustic ornament balls.
5. These rustic gold-glittered acorn ornaments would look perfect on a tree. Decorate with burlap and pine cones!
6. If wood burning isn't your thing, try painting wood slices with animal shapes. You just need the perfect stencils and some brown craft paint.
7. Ashlee Proffitt Design has a tutorial for these glass ornaments that are given the rustic treatment with jute, white and cream colored string, and coordinating beads. The resulting differences in texture make them really interesting to look at.
8. Stick ornaments like these from More Than a Homeschool Mom are easy for kids to make themselves. She has four different variations like these to choose from.
9. These adorable wooden spool ornaments would be easy to make! Or you can purchase them here.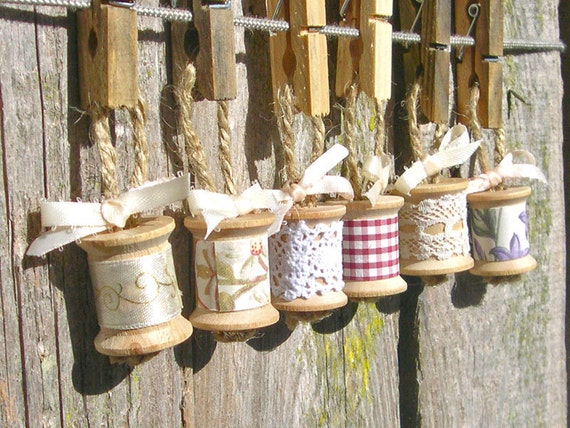 10. Here is another ornament perfect for a day of crafting with the kids: these Twig Star Ornaments from Happy Hooligans.