Mudroom ideas for the modern farmhouse should be one set of decor ideas at the top of everyone's list. Everyone needs a mudroom, or at least a small space that can serve as a mudroom. This is the place where everyone can come in, drop their stuff, and feel at home. Check out these mudroom ideas for the modern farmhouse!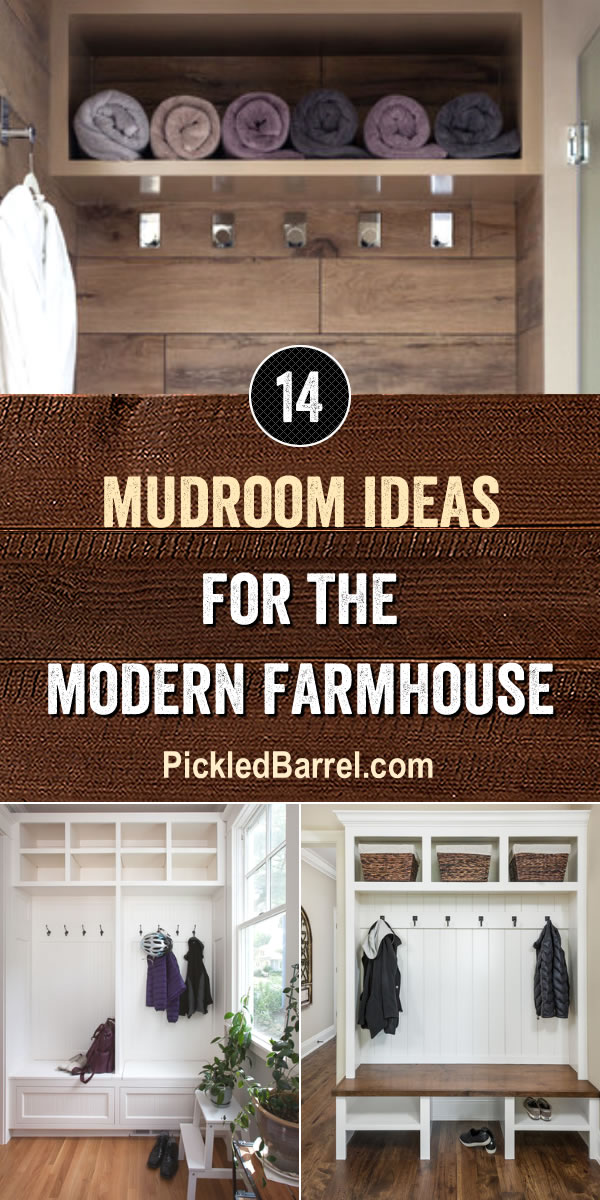 Mudroom and Laundry Room Combination
It seems that most mudrooms are a mudroom and laundry room combination. This example is one I would love in my home! I like that anyone working on laundry isn't in the way of anyone who comes in to grab stuff from the cubbies.
U Shaped Built-in Mudroom
This U-shaped nook makes an amazing mudroom. So much stuff could be stored in those built-ins!
Mudroom with Shiplap and Bench with Cubbies
Here's a light and bright mudroom with farmhouse shiplap and a beautiful wood bench for sitting. It certainly makes this space pretty and convenient!
Built-in Cabinet with Bench, Hooks and Cubbies
Next on this list of mudroom ideas for the modern farmhouse is a smaller mudroom space, but it's not any less serviceable. I love all the hooks and little cubbies perfect for storing coats and shoes.
Hallway Entry with Mudroom Cabinet
If you've got a long hallway in your entry, it's the perfect spot to put a mudroom cabinet like this one.
Simple Mudroom with Metal Bench and Wall Hooks
Any little entry spot can be converted into a functional mudroom. Add some hooks and a charming vintage metal bench, and you've got it made!
Built-in Mudroom Area
Splashes of color in a rug and window treatment can take your built-in mudroom area over the top.
Mudroom with Sink and Built-in Storage
Isn't a sink in a mudroom just so convenient? If I had the option, I'd definitely put one in!
Hall Tree with Added Trim
Add some trim to a hall tree in a dead-end hallway, and you've got an instant built-in mudroom look where there wasn't one before. This is a great DIY project!
Built-in Bench and Wall Hooks
This little corner might have been unused space without this beautiful built-in and wall hooks. Have you got some unused space like this?
Mudroom with Built-in Bench and Cubbies
This farmhouse mudroom combines the classic colors of black and white. I love how the rustic look of the baskets, window shade and wood floor all tie in together to ground the space.
Mudroom Area Behind Sliding Barn Doors
Some of us like the option to hide away our mudroom area as needed. A set of sliding barn doors lets you do that in complete farmhouse style!
Mudroom in a Closet
If you could turn your coat closet into a mudroom, imagine how much more functional the closet would be!
Mudroom Area in the Bathroom
What better spot to clean up after a day of hard work than a mudroom area inside the bathroom? This is such a genius idea!
Thank you for joining me on this tour of mudroom ideas for the modern farmhouse!