Check out these easy DIY reclaimed wood projects. If you've been searching for the perfect DIY projects for the reclaimed wood you're storing in your garage, look no further! These projects are sure to please. And if you don't yet have any reclaimed wood but are interested in acquiring some, I'll show you how. Don't go away!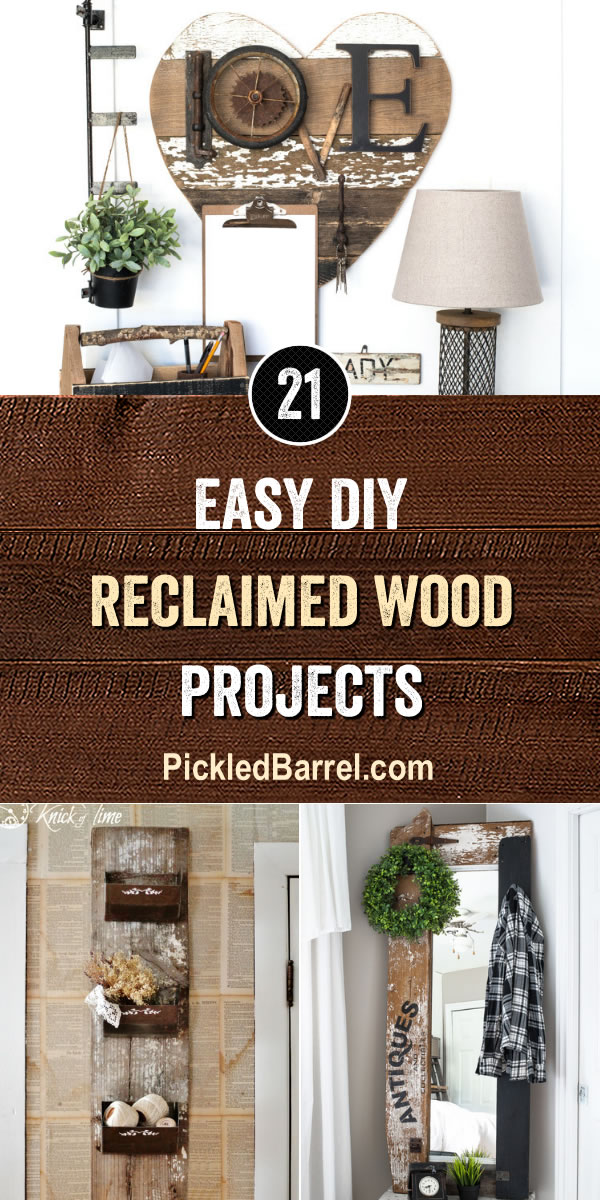 How to find reclaimed wood that isn't from a pallet? Here's a tutorial! And once you get some, you'll need to clean and sanitize it before you build any projects.
Where to Get Reclaimed Wood
How To Clean And Sanitize Reclaimed Wood
These projects are so clever, no one will guess how easy they are. I especially love the air plant display!
How to Display an Air Plant on Reclaimed Barn Wood
Barnwood Mason Jar Bottle Opener
Upgrade your IKEA furniture with these easy reclaimed wood hacks!
DIY Reclaimed Wood Buffet IKEA Hack
Ikea Hacked Barnboard Coffee Table Tutorial
These projects are sure to find a permanent home in your kitchen.
Scrapwood & Spoon Perch
DIY Reclaimed Wood Kitchen Shelves
Easy DIY reclaimed wood projects just for mirrors? You bet! I think these are both fabulous!
How to make a Reclaimed Wood Antiques Hall Tree Mirror
Reclaimed Rustic Barnwood Mirror
Will you build some industrial reclaimed wood shelves? How about a reclaimed wood branch shelf? Any of these options could be done in a day!
Guest Bathroom Industrial Reclaimed Wood Shelves
A reclaimed wood branch shelf that's really… anything!
Reclaimed Wood Shelves
Make your own unique reclaimed wood sign with these tips and tricks.
3 Ways to Use a Reclaimed Wood Salvaged Junk Heart
Tips and Tricks for Making Reclaimed Wood Signs
How to Make a Reclaimed Wood Love Rope Sign
How to Make Your Very Own Fairy Tale Reclaimed Wood Signs
I think the rustic DIY coat rack is my favorite of this group of easy DIY reclaimed wood projects.
Rustic DIY Coat Rack
Farmhouse Meets Industrial Wall Bins
Brick Reclaimed Wood Wall Art
Easy DIY reclaimed wood projects wouldn't be complete without these addition of these easy projects.
Farmhouse Crate Inspired by Magnolia Market
The Easiest DIY Reclaimed Wood Sofa Table
Rustic DIY Shelf