Hi! Today I have for you an amazing assortment of creative repurposed DIY projects. And when I say "creative" I'm not kidding. You'll find everything from bed springs to shutters on this list. Don't miss these incredible DIYs!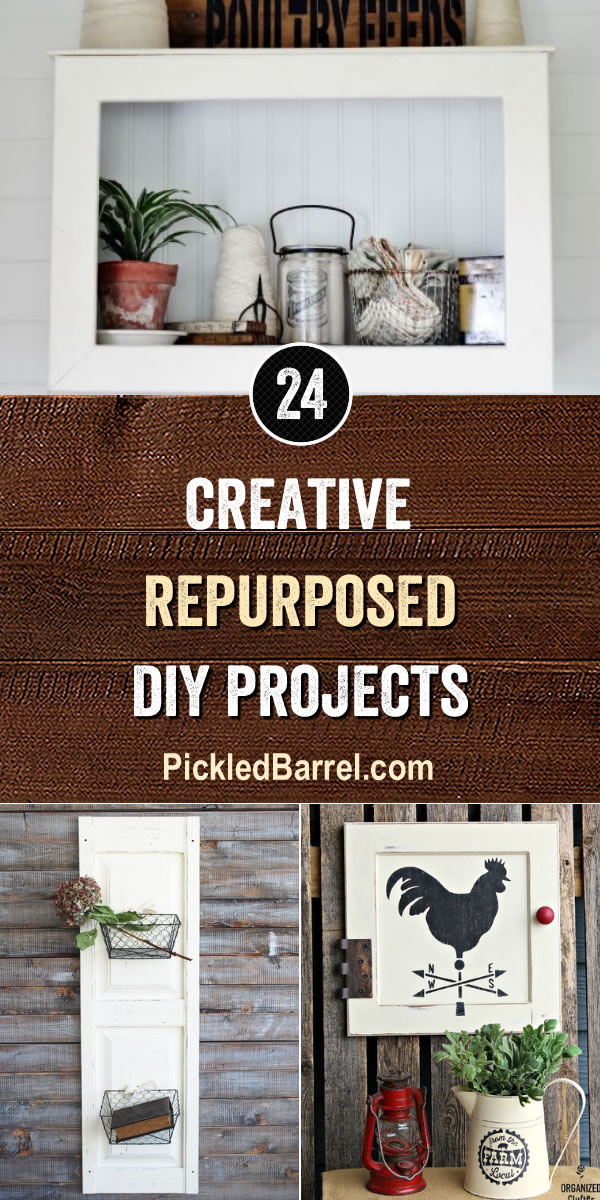 Got an old bed spring to get rid of? Well, number one, don't get rid of it! The first on this list of first creative repurposed DIY projects shows you how to turn that bed spring into a charmingly rustic memo board. This is perfect for your kitchen or even your home office. Love it!
Bed Spring to Memo Board
You can also turn that old bed spring into craft central. In other words, use it to organize your craft room. Think how much easier it will be to find what you need!
Repurposed Bed Spring Craft Storage
Here is the first of three ways to repurpose an old cabinet door into chic wall decor. Would you have thought to mount a vintage-style hook to the door? I wouldn't, but that's why I share these ideas!
Repurposed Cabinet Door to Chic Wall Decor
The second repurposed cabinet door marries the door with a trio of chicken wire basket shelves. I think this is my favorite!
DIY Farmhouse Style Chicken Wire Basket Shelf
How creative to turn an old cabinet door into farmhouse art!
Farmhouse Style Cabinet Door Repurpose
A cutting board is the perfect thing to repurpose as an iPad stand. If you use your iPad to look up recipes in the kitchen, then this is an ideal creative repurposed DIY project! I also love the inspiration to repurpose a serving spoon as a candle holder. Finally, check out the trio of cutting boards that make charming hooks for your farmhouse kitchen!
Cutting Board iPad Stand
Repurposed Cutting Board iPad Stand – Chalkboard Key Rack
How To Make A Candleholder Using A Serving Spoon
Farmhouse Style Cutting Board Kitchen Hooks
A trio of ways to repurpose a drawer into a cabinet will have you looking to get your hands on at least one old drawer. Which "cabinet" will you make first?
Turn a Drawer into a Farmhouse Cabinet
Repurposed Drawer to Cabinet
Old Drawer Cabinet
Be sure to keep an eye out for decorative frames at your local thrift store. With a little ingenuity you can repurpose your finds into a functional wall shelf or a chicken wire memo board.
Repurposed Picture Frame Shelf Shadow Box
DIY Memo Board
It's easy to make a DIY serving tray if you have either an old cutting board or an old wood crate. Both are charming, so you don't have to choose just one!
DIY Farmhouse Tray using a Repurposed Old Cutting Board
Crate Serving Tray
Another creative repurposed DIY project has to include shutters. They easily convert into rustic shelves you can use in any room of your farmhouse home.
Reclaimed Wood Old Sign Shutter Shelf
Shutter Shelf
Shutter Shelf with Hooks
A salvaged shutter also converts into a DIY coffee table. I love the hairpin legs! If that's not your thing, try adding wire baskets to a salvaged shutter for instant farmhouse organization.
DIY Coffee Table Using a Salvaged Shutter
Description Here
DIY Shutter Door with Basket Storage
A chippy door panel gets repurposed into a wall hook full of character. A vintage grain sifter is upcycled into a handy wall shelf. Louver doors get repurposed into attractive and functional wall art with the addition of reclaimed wood and decorative hooks. Thank you for joining me on this tour of creative repurposed DIY projects!
Chippy Door and Salvaged Hardware Wall Hook
DIY Wall Shelf from a Vintage Grain Sifter
Repurposed Louver Door Wall Art