Get ready for some more Joanna Gaines inspired farmhouse Dollar Store DIY projects! These are DIY projects you can count on to be farmhouse chic on a budget. Check them out!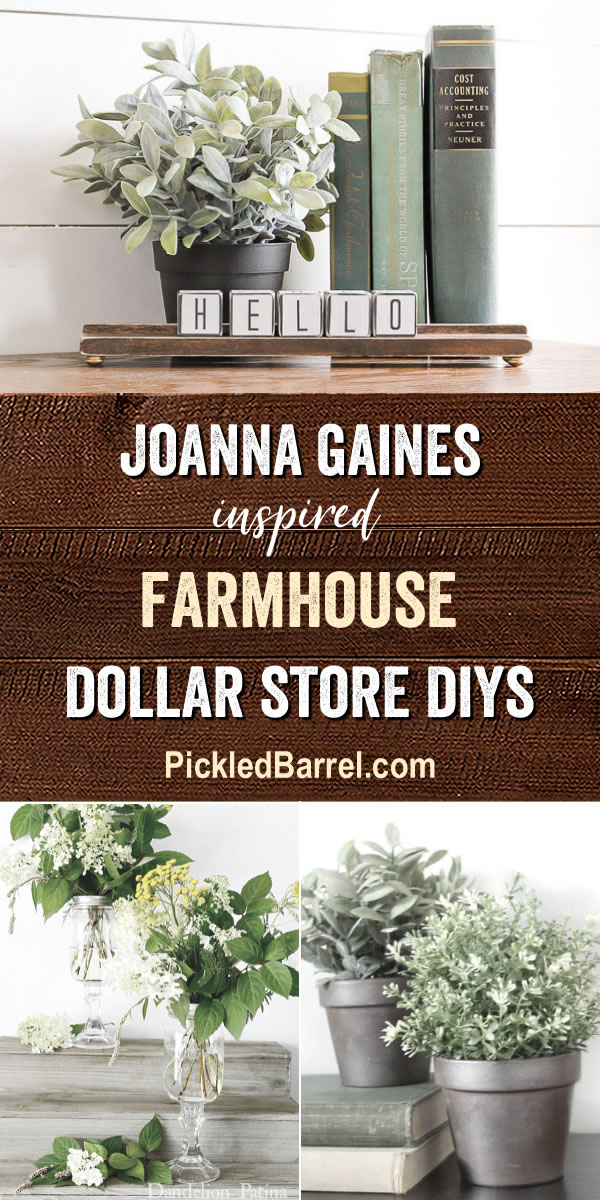 How To Age Galvanized Metal
For that farmhouse chic look, you need to know how to age galvanized metal. It's definitely Joanna Gaines inspired!
DIY Textured, Aged Pots
Joanna Gaines inspired farmhouse Dollar Store DIYs include this DIY for textured, aged terra cotta pots. Would you believe they were plain Dollar Store pots?
The following three creative Dollar Tree DIY projects are from Katie at Little House of Four. She never ceases to amaze me with all of her super creative farmhouse dollar store ideas!
How to Make a Wood Block Calendar From Dollar Tree Blocks
How to Turn Dollar Tree Art Into an Easy Farmhouse Tray
Dollar Store DIY: How to Make Paint Look Like Stained Wood
Faux Metal Industrial Flower Pots
Turn terra cotta into faux metal pots. It's another easy project for Joanna Gaines inspired farmhouse Dollar Store DIYs!
Gorgeous Faux Metal Wall Planter
What? Foam core that looks like faux metal? Yes! It makes a gorgeous faux metal wall planter you can use to display your favorite succulents.
Fixer Upper Art: DIY Windmill Wall Decor
I love the windmill art I've seen on Fixer Upper. Good news! We can all make our own DIY windmill wall décor!
DIY Wood Mason Jar Holder
A simple beginner DIY project that's definitely inspired by watching Fixer Upper.
The Easiest Way to Tint Mason Jars Blue
Blue mason jars are one of my favorite things! Who knew you could tint your regular jars a beautiful shade of blue?
How to Make Mason Jar Pedestal Vases
Mason jars become Joanna Gaines inspired farmhouse Dollar Store DIY pedestal vases quickly and easily!
DIY Tutorial How To Make Pottery Barn Inspired Tuscan Urns
This Dollar Store DIY is pretty unbelievable. Convert Dollar Store glass into fantastic Pottery Barn-inspired Tuscan urns. They're perfect for your farmhouse porch décor!
Knock-Off Pottery Barn Birch Candles
Enjoy a quick and easy DIY for birch candles that will make your guests think you bought them at Pottery Barn.
Tiered Clay Pot Centerpiece
Assemble Dollar Store pots into a tiered centerpiece. It's another great Joanna Gaines inspired farmhouse dollar store DIY project!
Outdoor Terra Cotta Candle Holders
I'd make these and display them on my farmhouse porch in a hot minute!
Designer-Inspired Nailhead Table for $6
Our next Joanna Gaines inspired farmhouse Dollar Store DIY is a nailhead table that will only set you back a whopping $6. Can't beat that!
How To Make DIY Ampersand Art Using Thumbtacks
Everyone loves ampersand wall art. So DIY it with Dollar Store thumbtacks!
Book Page Magnolia Wreath
Dollar Store books are perfect to use for a book page Magnolia wreath. Beautiful!
DIY Vintage Signs Made From Foam Board
Would you guess that these vintage-style farmhouse signs are really Dollar Store foamboard?