There's no doubt about it, crown molding adds serious style to any room, so don't be afraid to use it! Here are 12 crown molding projects that will make your house look expensive. Visit Remove and Replace to see even more crown molding inspiration for your home.
1. It couldn't be any easier than to apply some peel-and-stick crown molding. No nailing or gluing needed. Paint it to match your walls, or enjoy the contrast, it's up to you!
2. Crown molding doesn't have to be the stock stuff. This amazing cut-out look is found over at House Logic.
3. A plain flat board with a 2-inch piece of fluted crown nailed on top dresses up this kitchen cabinet to match the door and window trim.
4. Lights encased within the lower part of this molding cast the light upward and create a lovely ambience at night.
5. Flexible polyurethane crown molding easily conforms to the shape of any room.
6. Use crown molding to conceal the wiring for your entertainment system. It's pretty much a genius move!
7. Even crown molding can be made from reclaimed wood. And it looks amazing!
8. Where the blue ceiling paint meets the beige paint of the walls, white duct tape is used to create an unbelievable crown molding effect. I would not have guessed!
9. The crown molding in this kitchen is used to elevate the cabinets to the ceiling.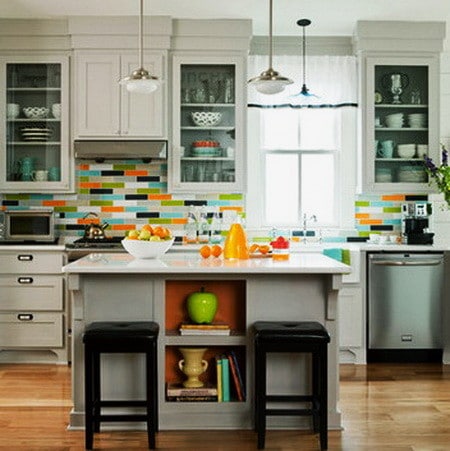 10. Crown molding is used in this attic space to highlight the unique architectural features of the space.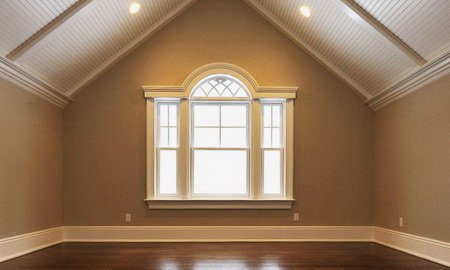 11. This room highlights the unique and beautiful look of tin or aluminum crown molding. It's easy to cut and install, and it's inexpensive, too!
12. A length of half-round is used a short distance below the crown molding in this room to really highlight the walls and make them appear taller.